If you are regular visitors to this blog you will know that I decided to pull out of the TransItalia Ultra next month. I got injured during the ThamesPath 100 and just haven't been able to put the miles in to prepare myself for the 266km, 50 hour dash across Italy. Never mind I did run across Italy in March albeit in a more leisurely 7 days and there is always next year.
So what to do? I've started putting in the miles again so I think an adventure beckons! I had such a fantastic time in the Spanish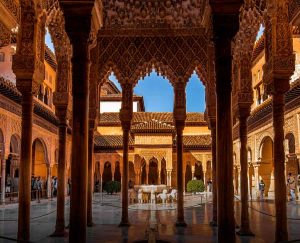 Pyrenees last year that I am drawn back to Spain. I remembered reading a brilliant book  called "Driving Over Lemons" by Chris Stewart, an ex member of Genesis (he left the band a few months before they hit the big time – uh oh!). It's such a happy, feel good book. It describes moving lock stock and barrel from the UK and bringing up his young family in Andalucía – I was inspired.
A quick bit of googling re-assured me that Andalucía was in Spain not South America and what's more it looked stunning – mountains, lakes, rivers, wild boar and beautiful deserted landscapes. In fact everything this particular adventurer desired and the die was cast.
Granada looks nice and it has an airport so the 'plan' (as far as I ever plan) is to turn up there with rucksack, tee and shorts and run across the Sierra Nevada finishing up in the ancient, Moorish walled town of Alhambra. If I don't get lost it should be about 110km and 15,000 ft of elevation so I reckon a leisurely 3 days. Then if I have time and haven't lost my money I will have a couple of days running around and exploring Seville.
Regular readers will know that however fanciful these adventures look on paper I normally end up doing them (or a variation of). The first step is to commit to an idea in print, post a pretty picture and then there's no turning back. Heck I've even changed my language learning app, DuoLingo, from Italian to Spanish.
Viva Espana, Viva Adventuras!
2020 update: Granada has featured in several of my adventures and continues to do so. I'll be competing in the Sierra Nevada ultra again this year and Granada will also mark the finish of leg 2 of Correr por España.