Coronavirus has had a devastating impact on families, friends, the young and people's livelihoods. I am one of the lucky ones in that I have kept relatively healthy. I have managed to maintain some of my work projects and I live in a house where I have some space and a garden to exercise in.
I'm lucky too in that I relish solitude and where better to experience that than in the great outdoors. Most days I spend two to six hours outside running, walking and taking photographs. So, other than the initial lockdown, I have been relatively unaffected. Of course a lot of runners thrive on competition and if you're like me most of your races and meet ups have been cancelled But maybe there is something we can do about this.
You can still get the real marathon experience .. blisters too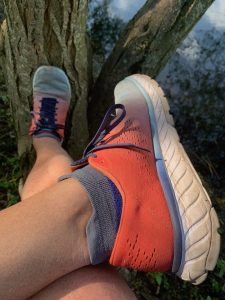 It was a real eye opener on virtual "London Marathon day" to witness the number of runners and walkers of all shapes, abilities and sizes, doing their own London Marathon. There was a real sense of camaraderie and encouragement not just from fellow competitors but people out enjoying their Sunday stroll or taking the dog and kids for a walk. This is unusual in itself. Very often there is a mindset of 'us and them'. I wanted to be a part of it but I was my normal disorganised self and didn't even realise the marathon was on until the night before and so of course didn't have an official entry.
Show time!
I woke bright and early and on the spur of the moment I decided to do it anyway (and so could you, why not). I made myself the obligatory peanut butter and banana sandwich, grabbed a handful of nuts and put a couple of gels in a bag. I know the Thames Path backwards so I had a rough route in mind and thought I could get away with one water bottle (how wrong was I). We had experienced torrential rain in the proceeding days so I decided to get out my very grippy Salamon xxxxx You know the ones – the ones that gave me a huge blister on my achilles when I was running the Camino de Santiago trail last year, the ones that blister your toes when it's wet. Yes those ones. Why I thought they would have miraculously cured themselves of these foibles sitting in the boot of my car is beyond me. I parked by the river and set off towards Henley which, there and back, would give me my first 15 miles and a welcome return to the aid station, aka my car.
Within a mile I met my first runner, well he was walking actually. It was his first experience of a marathon and he was resplendent with his number pinned proudly to his top as he made his way towards Marlow. I wished him well and went on my way. Before long I passed a father and daughter who were heading towards Maidenhead and what they hoped was a 'PB'. As their first marathon had been the notorious Beachy Head Marathon which was one of the most gruelling I have ever competed in I assured them they would. And so it continued. There were people running on their own, girlfriends walking and talking with equal speed and enthusiasm, a small group of Spanish students from Reading Uni as well as seasoned professionals but all with a common goal – to hit that 26.2 mile milestone.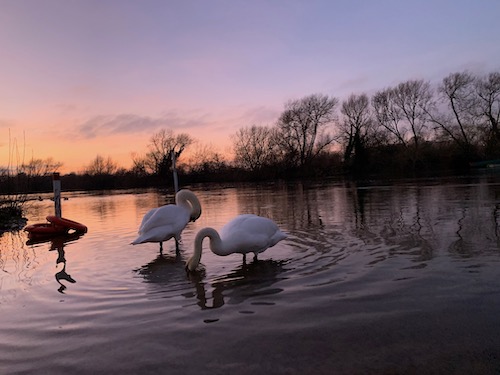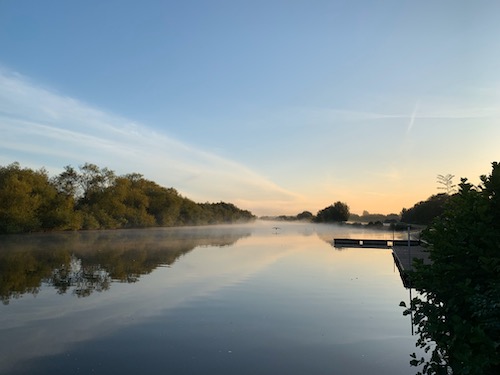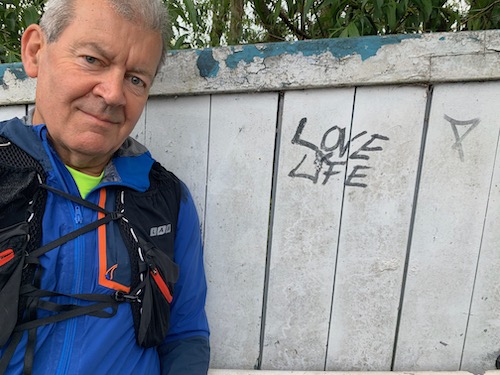 ---
Water is for ducks and runners too
The path was completely submerged by the time I got to Shiplake and the water and mud was up to my knees but old mister know-it-all knew every contour and before long I was trotting down millionaires row and into Henley. A quick pit stop for a gel and yes they still wanted to make me throw up, before heading the 7.5 miles back to the car. Here a change of socks and running shoes, a peanut butter sandwich and some much needed water before tackling the final 11.2 miles. I headed towards Pangbourne where the path was not quite as treacherous and it was fun to see runners at different stages; some starting and some finishing and some betwixt and between. I ran a little bit past the 26.2 to be safe before heading into Pret to grab a coffee and then trudge back the 2 miles to the car. A thoroughly enjoyable day and almost like the real thing without the 80,000 + people but very real to those that put in the miles – bravo to you all!
FKTs and other games to play
This got me thinking – what other challenges could I devise to make up for the lack of competition. The concept of FKT (fasten known time) has been around for ages but is becoming ever more popular perhaps due to the current situation and lack of races. Now I admit that "the gents in the rowing club car park to Mapledurham lock and back" doesn't have quite the same ring as "Cervinia Church to top of Matterhorn and back"* but I think you get the idea.
*In case you are wondering Kilian Jornet (who else) holds the FKT scaling the Matterhorn's 14,690 ft in 2hours 52mins and 2seconds. This includes starting and returning to the village of Cervinia in Italy.
I've now built up quite a list that I'm trying to beat and I'll start looking for some other ones that other people might have done.
Train racing
Next up is "train racing". The concept is simple – check your train timetable and a distance you want to run e.g Reading to Goring 13 miles. Estimate an approximate time – say 2:25 giving you a few minutes to talk to en route, pit stops etc.. Leave with 2 hours 20 mins to catch the train and run like hell. This gives you the excitement of will I, wont I, will the train be on time, will the cows be blocking the path, who will I snub en route because I'm behind schedule. If all goes well you run onto the platform as the train arrives – if not well … it's an hour wait in the cold for the next one!
Anyway hopefully the race calendar will be getting back to normal next year but in the meantime get your creative juices flowing – there are challenges to be had out there.
Stay safe.