If you follow this blog you will know that I try and do the occasional run for a wonderful charity called Sarvashubhamkara (or Sarva for short). They are a small organisation working with the forgotten people of the Indian sub-continent and get involved with local projects, education and bursaries.
My friend Marlena Gibas designed some fabulous Christmas cards and we decided to put the two together – sell some amazing cards via a few friendly, local businesses and we would raise a few bob for Sarva.
So a week later with cards designed and printed we were knocking on doors persuading Cafes, flower shops and the like to sell the cards. We printed a few posters and even designed a website with a shop and we were off.
Marlena traipsed round the shops, contacted friends and family and orders started to trickle in. But we needed to do more – we looked at going to a Christmas Fair or two but the costs were prohibitive and then Marlena cam up with a brainwave.
We would run 100 miles to Blenheim Palace calling in at the villages and towns en route and boost sales that way. I would do the running and Marlena would do the selling and before we knew it a new poster was printed, cards were packed and we were ready.
The run
The plan was to run the 100 miles along the Thames Path over 3 days finishing in Blenheim on the Saturday. I had run a marathon+ along the path to Henley a few days previous so had these miles "in the bank" should we need them! So it was on a bitterly cold morning that I set off, 2 hours later than planned, from Reading towards Oxford. I was feeling the effects of the marathon a few days earlier and I was grumpy and out of sorts as I headed along the river towards Streatley and my first pit stop. Now ultra runners have an expression "beware of the chair" – in other words if and when you stop never sit down and, instead, take all your breaks standing up. Needless to say I don't heed my own advice and so it was half an hour later and now seriously behind schedule that I levered myself out of my comfortable seat and back out into the cold.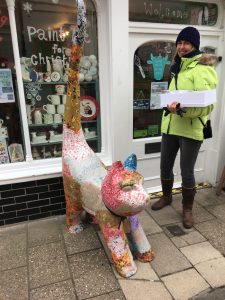 But the break had done me good and it was with renewed purpose that I trotted onto Wallingford and the half way point. I stopped for some water and a banana (this time without sitting) and was soon on my way towards Abingdon. The going was hard as, late into the afternoon, the frost had thawed and it was becoming muddy underfoot and the realisation that I was going to finish this leg in the dark didn't improve my demeanour. Never mind I had good news from Marlena that the cards were selling well and she was nearly cleaned out and heading back to Reading.
Dusk soon turned to darkness and although I had run this leg several times before I still managed to end up on the busy Wallingford-Abingdon Road – shades of the Pyrenees. I doubled back, found the correct path and headed into Abingdon and the bus back to Oxford to catch the Reading train. 28 miles done in the day and a total of 55 including the Henley marathon a few days earlier. I felt OK although I knew then next day would be a challenge.
And so it proved to be. I had another late start but once again Marlena was doing well with the cards and by early afternoon she had sold out. I wasn't doing so well, the late start, the bitter cold and the accumulated miles were taking its toll and with night falling I had to call it a day with just over 22 miles on the clock.
Decision time – I couldn't run on the Sunday so I would have to invoke the "Henley" card and use those miles which would leave 22 miles around Oxford & Blenheim on the Saturday. A hard enough task but with the end in sight I knew I could do it.
Once again it was a beautiful but cold day to complete the run and when I finally got to Blenheim it was a joy to run round it again. I met Marlena for an extended pit stop in Woodstock and we finished the run and the cards just as the sun was setting and managed to get some stunning pictures before retiring for a celebratory tea and cake.
A fantastic run for a fantastic cause! You can find out more about Sarva at sarva.org.uk and don't forget to follow us on our next adventure as we attempt to run across Italy in January 2017.