Having run across Spain from West to East (Atlantic to the Med) I thought I would try and replicate the feat but this time running North to South. I'll write a post about it because it was an epic trip but the long and short of it was that my knee blew up in the Picos Mountains after 300 miles.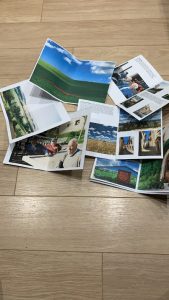 But one thing I've learnt, over the thousands of miles that I run, is to always look for positives. I managed to get some stunning pictures of the Camino de Santiago and the Sierra de la Demanda and of course the Picos Mountains too. So I've been inspired to put a picture book together and it will be on the site soon. The mock up of the cover is in the image above.
Spanish Steps is available right now from the Shop
The process of putting a book together is a really fun experience and I urge everyone to give it a go. Me being me and my usual contrary self, I decided to do all the design and layout "freestyle". But there are lots of templates and resources on the web and I'll put a few links below. It's very different from writing a "book book" which I have found very difficult – I'm still writing "Moving Mountains" (my story about running across the Pyrenees). With a picture book it's about balancing the pictures with the words, not necessarily choosing the best pictures but the pictures that tell a story and of course the design elements – fonts, paper type etc.
So happy book creating and more importantly happy adventuring – go and create that story!
Links
Daniel Milnor – http://shifter.media/
Blurb – https://www.blurb.co.uk/
Moving Mountains – http://movingmountains.cat/
Magcloud – https://www.magcloud.com/