Sun, sea and run, run, run!
Falmouth is a thriving, bustling port situated on the south coast of Cornwall. It's well know for its maritime museum, its tourist industry and of course fishing and sailing. One lesser know fact is that Falmouth is also a great place to run whether you choose the coastal paths or attempt a really epic like Falmouth to St Mawes where you will encounter sea (if the tide is in), rocks, green fields, leafy roads, mud flats, ferries and a whole lot more! Here are a few routes to whet your appetite.
Routes
1. Falmouth Marina loop via Pendenis point – 10k
Starting in Falmouth Marina this is a gentle run that takes you through the centre of this historic port, along cobbled streets and past the maritime museum before heading out of town and towards the docks. From there you follow the signs to Pendenis Point. This is the hard part of the run as you climb a steep hill towards the Coast guard station and some really stupendous view over Falmouth Bay and beyond. Once you've taken in the views follow the road round down the other side of the hill back towards town before joining your route back to the Marina.
Total distance is just over 5 miles (9km) and is worth doing for the views alone.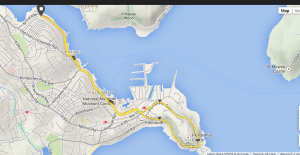 2. Falmouth Town Centre to Mylor Harbour and back – 20k
A spectacular run along the coastal path through Flushing village to Mylor Harbour. If the weather is good this is a great run – plenty to see, lots of different terrain and ending up admiring the yachts in Mylor. From Falmouth head towards Penryn village and turn right towards flushing. About 100 yards after the turn head down the coastal path just before the church. Follow the path all the way to Flushing (part of the run is along the shoreline which will be tight s the tides in!). Head through Flushing up the hill and marvel at the enormous mansions that overlook the Fal Estuary before crossing the fields and onwards towards Mylor. Catch your breath at Mylor and then it's back home to Falmouth and swell earned drink!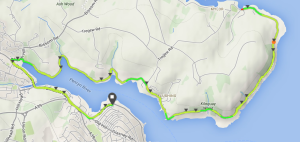 3. Falmouth Centre to St Mawes (return by Ferry) – 40k
I won't go into too much detail because I've written a full review of this run on masairunning.com   – suffice it to say this is a really epic and challenging run and not for the faint hearted. It incorporates everything from challenging terrain, road work through narrow lanes, dodging traffic on the A39 and catching a ferry half way through!
There are a couple of "gotchas' – the traffic on the A39 is dangerous (see map) so plan your run when the tide is out and a lot of that short section can be run along the river that runs alongside the road. The Ferry back from St Mawes to Falmouth stops at 5:30pm so unless you want to end up running an ultra take that into account too!
Where to stay
If there is a gang off you there is fantastic cottage to rent right in the epicentre alongside the banks of the River Fal.  More details are available on their website rivercottage.co
Alternatively you can visit the Falmouth Town website for a list of hotels & B&Bs falmouth.co.uk
Where to eat
The Marine Bar & Restaurant (my favourite!!)
01326 313481
Falmouth Marina
Oliver's
01326 218138
33 High Street

Da Vinci Ristorante Italiano
01326 312277
35 High Street
Gylly Beach Cafe
01326 312884
Cliff Road
Rick Stein's Seafood Bar
01841 532700
Discovery Quay
Things to do (when you're not running)
Falmouth has everything from beaches, waterspouts to gardens and the maritime museum – so whatever floats your boat you'll find it!