#8marathons8countries8days – Road to Berlin
What possessed us to try and run 8 marathons in 8 countries in 8 days I'll never know – suffice is to say that we are always up for a challenge and there didn't seem to be a bigger one than that!
My running partner, Marlena, and I picked up our trusty Landrover from Blue Moose Graphics who were doing the signage and after a couple of publicity pictures we hot footed it to Dover and the cross channel ferry. Talk about cutting it fine but thanks to the guys at Blue Moose we had done it and now onto the hard part; running the 8 marathons and somehow navigating between the 8 countries and all this in 8 days!
We caught the P&O "Marie Celeste" sailing and were on French soil before sunrise and on the road to Berlin some 550 miles away. After a couple of hours it was the obligatory croissant and green tea stop and then on to Berlin. I knew from previous experience how fast the Germans drove but as long as you kept to 120mph in the slow lane you had a sporting chance!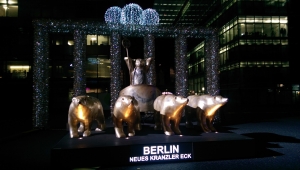 Berlin was one few European cities I hadn't been to so I was really excited to see what it was like but inevitably on the long drive our minds drifted to the challenge ahead. I knew physically we were in good shape to take on the running but I also knew that luck would need to be on our side with the logistics (particularly with our map reading)! It hadn't been done before and there were far better runners around than us so the driving and crossing all those borders would definitely be a challenge. Anyway plenty of time to think about that later, now there was a city to explore!
So having braved the Autobahns and the service stations a little more than 12 hours later we were driving through the outskirts of Berlin and to the heart of the city. Accommodation sorted now it was time to find something to eat and then explore!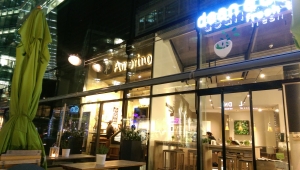 We found a restaurant and had a hearty meal (definitely on the vegan light side!) and copious quantities of green tea before hitting the streets to take some pictures and get a flavour of the city. First impressions were wide clean streets, amazing shop windows, bright lights, well heeled shoppers – yep Berlin was definitely prospering and we were going to have a ball running round this city in the morning .. but that's another story!
Have you been running in Berlin or perhaps you would like to go? Sign up below to comment and get regular updates.
[email-subscribers namefield="YES" desc="" group="Public"]