Le Pont d'Avignon & a whole lot more!
Famous for a bridge that stops abruptly  in the middle of the Rhone and inspired the song "Sur Le Pont d'Avignon", Avignon offers a whole lot more for the intrepid runner. It's a spectacular town, steeped in history and encircled with medieval ramparts and whilst the running routes are not particularly long or varied and it can be very crowded in summer, this is more than made up with the spectacular buildings and scenery and the post run atmosphere.
Routes
A couple of running 'gotchas' for Avignon – its is very busy so running early in the morning, as I did, is your best bet, some of the little streets are really pretty but do get crowded as the tourists arrive. Running through the garden (marked on the map) is great fun & it's worth taking your phone/camera as the view over the Rhone is spectacular.
The road that surrounds the town is very busy! I've marked a couple of crossing points, the first one near the famous bridge which is worth a look and a picture or two. The footpath peters out at the second crossing point and the rest of the route is within the city walls – my Suunto failed to map the run on my watch so you may be going a bit "off piste".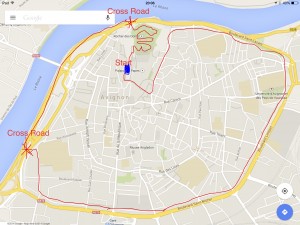 How to get there
My preference is always to use the car where possible because there are some many things to see and do en route – Calais to Avignon is about 970km and that will take about 8.5 hours. Remember to factor in autoroute tolls of approximately £125. You can break the journey up by visiting Reims where there are some great places to run and you can see our write up here. Also Les Dentelles is not far away and that is truly stunning – check out the review here.
There is an excellent train service from Paris which only takes about 2.5 hours – more details on the SNCF website.
If you are coming from further afield or you prefer to travel by plane then Avignon has its own small airport or you can fly to Marseilles which is about 80km away. There is a brilliant website, Skyscanner, which is what we use for all our flights – it checks through all the airline databases and provides you with a list of options and the site has an excellent filtering system too.
Where to stay
There are more than 70 hotels in Avignon so Trip Advisor is your friend for the very best deals. I'd advise you to look within town walls but not in the main square which can be quite noisy unless that's your thing! Also parking can be tricky – there is a map below of the best one & believe me I tried them all!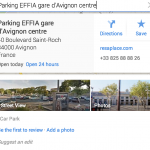 Where to eat & what to do
Avignon is lively and the streets and squares throng with tourists particularly in the main square, Place de l'Horloge. Restaurants are aplenty but here are a few to start you off:
Pizzeria Casa Castagne 22 Rue du Vieux Sextier 84000 Avignon +33 4 90 84 0982 (vegan dishes available)   Auberge De Cassagne 450 Allee De Cassagne Le Pontet Avignon +33 90 31 0418 (pretty but can be expensive)   L'Ubu 13 rue des Teinturiers Avignon 49 080 0101 (off the beaten track near the canal – give it a go if you can get a table)  
 There is lots to see and do in Avignon – a must is the light show in the courtyard of the Popes Palace which is spectacular and of course there are the surrounding gardens which you will probably be running through. You can't go to Avignon and not see and photograph the bridge (one of the running routes goes by it) but frankly the most fun is just walking around taking in the amazing buildings and exploring some of the back streets and quirky shops.
It's also worth mentioning that there are some other great places to run and visit around here – if you are an Urban Trail Blazer and Avignon is the urban bit, then have a look at our review on Les Dentelles – very definitely some Trail Blazing there
Here is the website for the Tourist Office – Bon Voyage!